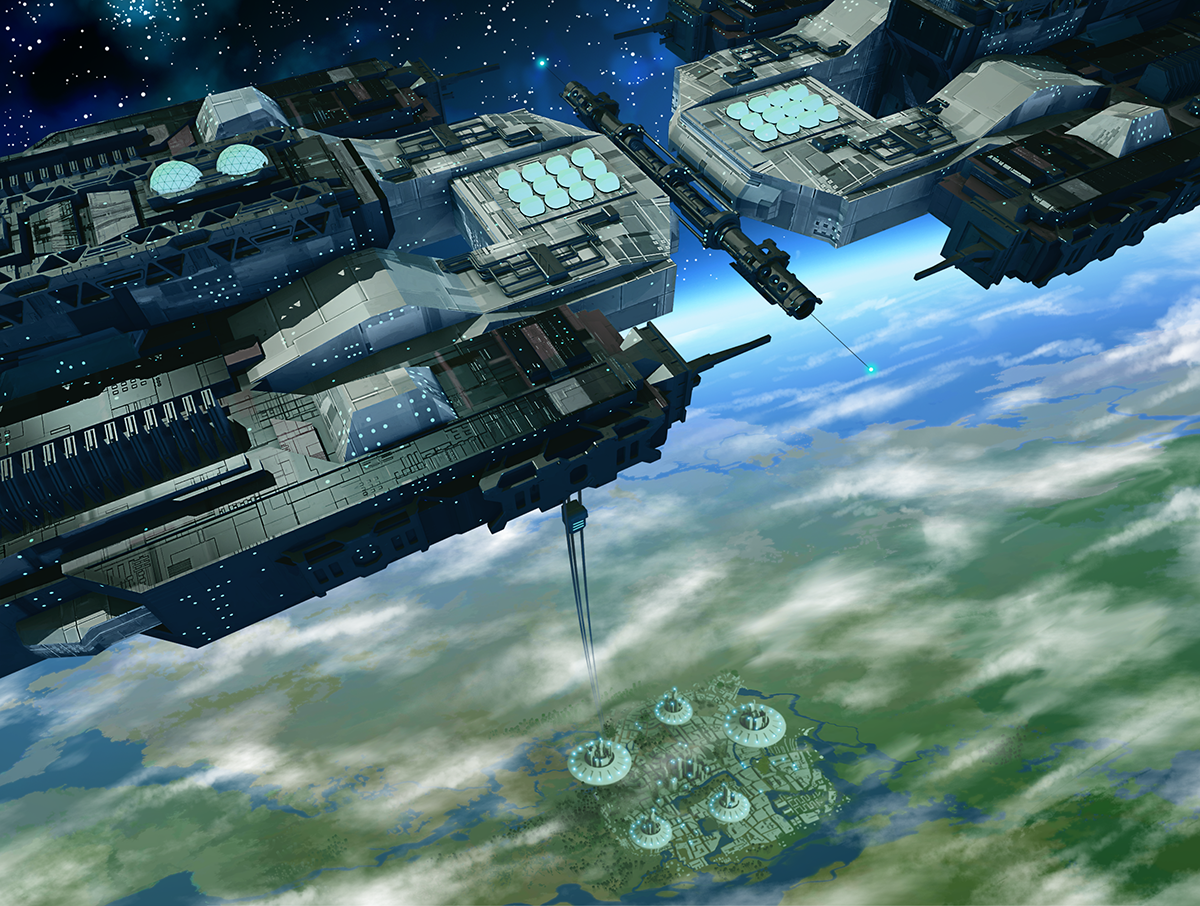 ---
Welcome to the Han Cluster!
The Han Cluster is an optimistic sci-fi RPG setting created for the Savage Worlds role-playing system. In it, you play humans and "Ghosted Machines" (Sapient AIs) in a world that challenges the notion of what it means to be human.
Travel the galaxy, explore the the planets, discover alien secrets, help your friends, fight your enemies, and even save humanity itself. Employ amazing gifts of transhumanism thanks to a mysterious discovery called the Nex, and experience first-hand how our species' unique ability to connect with each other makes us a powerful force in the wider universe.
Six hundred years in the future, humans have discovered a mysterious inter-dimensional phenomenon called the Nex (short for the Nexus). Sapient machines (known as Ghosted Machines), formatively influenced by humanity, have gained consciousness and share the world with their creators, bonded through a mutual connection to this unexplainable reality bridge. Despite all these advances, all sapient beings of the known universe still face threats both within and without. A cold war between Earth and the Han Cluster endures even while a mysterious otherworldly menace threatens to wipe out all intelligent life.
Discovery and Connection
In the Han Cluster, a vast and remarkable future world awaits your exploration. Travel between its diverse planets, investigate its secrets, hunt pirates, help good people who are in trouble, search for salvage, discover remarkable artifacts, explore the Nex's gifts of transhumanism, and even uncover the greatest mystery of all: the very nature of the Nex itself.
Included in the Han Cluster book you'll find:
A full and vibrant setting, spanning multiple planets and space stations, different cultures, the fascinating evolution of humanity since unlocking the Nex, plus lots of other hidden surprises.
Full character creation rules for both the humans and the Ghosted Machines of the Han Cluster.
A complete set of adventure generators to help you create your own star-hopping adventures.
A dynamic ten-act Plot Point Campaign called Transcendence in which you confront a mysterious alien menace threatening to annihilate humanity.
A fleet of Savage Tales to fill out your own campaign or provide independent adventures around human space.

In the Han Cluster, you can make any kind of hero you like: engineer, pilot, repair bot, ex soldier, asteroid miner, courtesan, even a wildcatter from the poisonous world of Venin. Of course there's always the Nex manipulators too: Nex-Divers and Nex-Coders (new Arcane Backgrounds for folks who have developed amazing powers). Complete character creation rules, along with the rules for creating Ghosted Machines (the Han Cluster's sapient AIs) are all included in the book. For a quicker start, though, we've created a several archetypes that allow you to get playing as soon as possible!

The Han Cluster sci-fi RPG setting has been in development for five years by creator Tracy Sizemore. Tracy has worked for Pinnacle Entertainment (the creator of Savage Worlds) directly as the developer for Holler and Pinebox Middle School, and has written several adventures for Pinnacle's various settings.
Feedback from the convention games and playtests we've already run has been tremendously positive, and people have shown intense interest in both the unique trappings and mechanics of the setting, the optimistic outlook on the future of human society, as well as intrigue surrounding its enduring mysteries and fascinating questions.

The full setting is coming to Kickstarter in 2024, but the pay-what-you-want Jumpstart is NOW AVAILABLE on DriveThruRPG! Included in the Jumpstart is a brief introduction to the setting, a few abbreviated Setting Rules, and a full-fledged introductory adventure called "Reunification." This one to two session adventure not only gives the heroes the opportunity to save tens of thousands of people in a terrifying Cluster-wide attack, but also introduces both GMs and players to some of the most iconic aspects of the Han Cluster setting like X-Ghosts, X-Bonding, and Ghost Traveling!
Stay Up to Date
Sign up for updates and announcements about the Han Cluster sci-fi RPG! You'll be notified of the jumpstart release, Kickstarter launch date, and other important milestones. (No Spam, we promise!)

© 2023 Ede Sol Games™. The Han Cluster™, Playing with Heart™, Nex Your Reality™, and all related marks and logos are trademarks of Ede Sol Games™. All artwork, graphics, character names, fiction and setting material are the intellectual property of Ede Sol Games™. All rights reserved.

This game references the Savage Worlds game system, available from Pinnacle Entertainment Group at https://peginc.com/. Savage Worlds and all associated logos and trademarks are copyrights of Pinnacle Entertainment Group. Used with permission. Pinnacle makes no representation or warranty as to the quality, viability, or suitability for purpose of this product.